MIMENTO centre has created a dedicated zone for innovative femtosecond laser-based micromachining processes in order to open up new possibilities for fabrication of various three-dimensional (3D) microstructures in photosensitive polymers (Nanoscribe system) as well as in hard glass-type materials (FEMTOprint system).
Nanoscribe Photonic Professional GT+ is a high-resolution 3D micro-printer designed for ultra-precise and rapid prototyping for a broad range of print materials (polymers) and substrates. It uses Two-Photon Polymerization (2PP) to produce very complex and unique 3D devices for many applications and eases microfabrication from the sub-micrometer range to millimeter-scale dimensions.

The procedure of critical point drying is an efficient method for drying these 3D delicate samples as it preserves the surface structure which could otherwise be damaged due to surface tension when changing from the liquid to gaseous state.
FEMTOprint system implements a new generation laser microfabrication technology for precise and rapid 3D patterning of glass materials using femtosecond laser-assisted wet etching (FLAE) method. The FLAE is a powerful mask-free subtractive method, allowing chip-level or wafer-level micromachining of surface and buried micro-structures with high spatial resolution (µm range). The overall FLAE fabrication process is composed of three main steps: 1) design of laser-machining process by use of dedicated software ALPHACAM, 2) direct laser writing of the pattern into the substrate, c) wet etching in KOH or HF etchant for structure releasing.



Resource contact:

High resolution 3D printer
Nanoscribe
Photonic Pro. GT
Use:
> 3D laser µ-printing
> 2D & 2.5D lithography
——
Automated critical point dryer
Tousimis
Autosamdri 931
Use:
Efficient method for drying delicate samples for:
> 3D structures (Nanoscribe)
> SEM applications as MEMS samples or Biological specimens
——
3D laser microfabrication system
FEMTOprint
f100 aHEAD Enhanced
Use:
> 3D micromachining of transparent glass materials
> Local index modifications
——
Nanoscribe resins overview

——
FEMTOprint system overview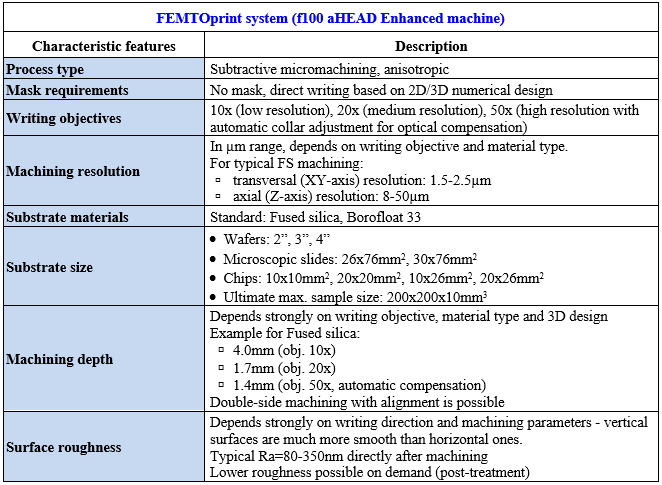 ——
Realisations
Nanoscribe
3D mechanical metamaterials

Nanoscribe
Optical neural network
FEMTOprint
Towards all-glass micro-gripper
(height 1.7mm, fused silica)

FEMTOprint
All-in-glass actuated micro-platform
(50µm, fused silica)