MIMENTO technology center has a resource dedicated to the dry etching of different materials (plasma etching). A key feature of plasma etching is the ability to etch materials, isotropic or anisotropic, independent of the crystal orientation.
In plasma etching, the gas entering the reactor will be ionized and fragmented by electric or magnetic excitation, generating electrons, ions, radicals and molecule fragments. By diffusion or drift they reach the sample surface, where they undergo chemical (radicals, molecule fragments) or physical (energetic ions) interactions with the sample. In this way, the sample surface can be etched.
By choosing the appropriate reactive gases (SF6, CF4, C4F8, Ar….), a wide range of materials can be etched (Silicon, Quartz, Glass, LiNbO3, ...).
Depending on the chosen process, the etched depth varies from few nanometers to the through etching of the wafer.

Resource contact:

Asher & Surface treatment system
Nanoplas
DSB 6000
Use:
> PR stripping
> Surface treatment, prep-aration, functionalization
——
Stripping tool
Muegge
R3T
Use:
> Thick photoresist remover (SU8), descum and surface Activation
——
RIE-CCP system
CORIAL
200-R
Use:
> Nano-metric & sub-µ etching on variety of materials
——
Si DRIE-ICP system 4''
Alcatel
601E
Use:
> Si deep etching
> Si isotropic etching
——
Si DRIE-ICP system 4''
SPTS
Rapier
Use:
> Si deep, sub-micronic & isotropic etching
> Vias etching
——
Si DRIE-ICP system 6''
SPTS
Rapier Omega C2L
Use:
> Si deep, sub-micronic & isotropic etching
> Vias etching
——
Multi-material DRIE-ICP system 4''
STS
APS
Use:
> Dielectric, isolated & piezo-electric materials etching
——
Chlorine ICP system 4''
Trikon
Omega 201
Use:
> Metallic materials & SC materials etching
——
Dry etching overview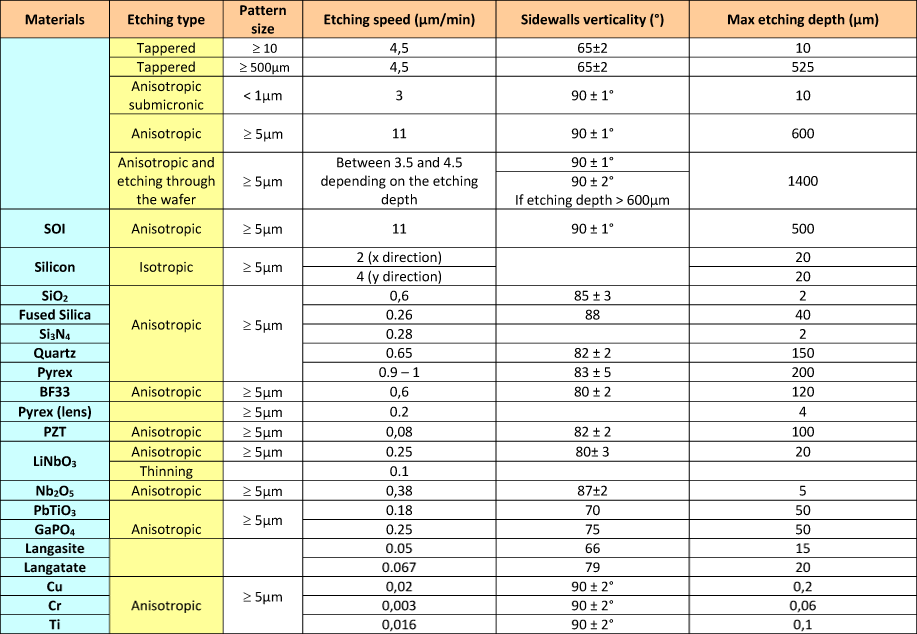 ——
Realisations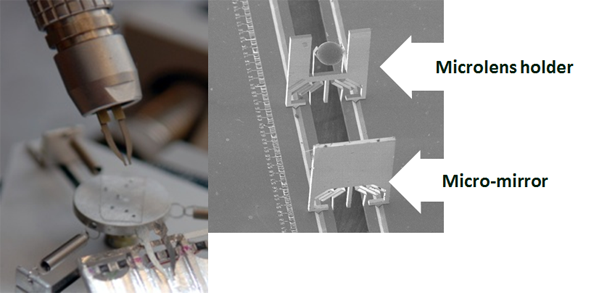 | | |
| --- | --- |
| Electrostatic X-Y microactuator | Phononic crystals |