The technological center MIMENTO offers a special resource dedicated to thin film deposition of metals, oxides and other compound materials. The deposited thicknesses may vary from few nanometers
to a couple of micrometers, depending on the deposited material and the technique used.
Generally, the methods used to deposit thin films are split into two categories: Physical Vapor Deposition (PVD) and Chemical Vapor Deposition (CVD). The distinguishing feature between PVD and CVD techniques is in the vapor. In PVD, the vapor is made up of atoms and molecules that condense on the substrate, and for CVD, the vapor undergoes a chemical reaction on the substrate which results into a thin film.
Within FEMTO-ST it exists three deposition techniques for the thin film deposition:
Sputtering (PVD)
Evaporation (PVD)
Plasma enhanced CVD
Furthermore, MIMENTO has the possibility to perform thermal treatments. The purpose of thermal treatments are various, in order to affect their optical, electrical and mechanical properties.
Reduce or eliminate the residual stress in thin films
Densify deposited films
Activation/diffusion of dopants
Recrystallization of the samples
The RTP system is a single wafer processing, performing annealing at elevated temperatures in a short time (the order of few minutes). The conventional furnace is capable to process lot of wafers at a time with thermal cycles of the order of several hours. The multitube system allows to dedicate one of the tube to process wet or dry oxidation.

Resource contact:

RF magnetron sputtering system
Plassys
MP 450S
Use:
> Metal, Oxide & Nitride deposition
——
DC magnetron sputtering system
Plassys
MP 500
Use:
> Metal deposition
——
DC magnetron sputtering system
Plassys
MP 700S
Use:
> Metal deposition
——
Electron-beam evaporator
Alliance Concept
EVA 450
Use:
> Metal deposition for lift-off processes
——
Electron-beam evaporator
Plassys
MEB 600
Use:
> Metal & Oxide deposition for lift-off processes
——
ICPECVD
Sentech
SI 500D
Use:
> Oxide & Si3N4 deposition
> Good conformal deposition
——
Oxidation and annealing furnace
AET
Use:
> Thermal oxidation & diffusion
——
Rapid thermal processing
Annealsys
AS-Premium RTP
Use:
> Densification & Crystallization
> Contact annealing
——

Thin film overview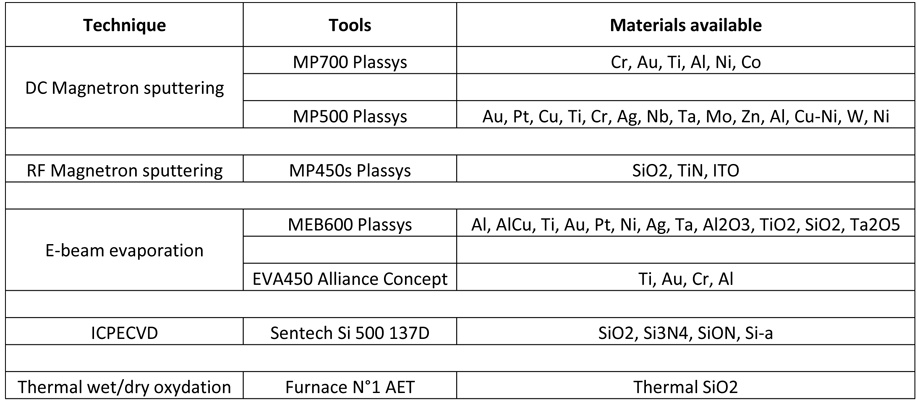 ——
Realisations
| | |
| --- | --- |
| Gold terrace for proteomics | Multi-layer acoustic wave mirror |
| | |
| --- | --- |
| Optical fiber tip coating | Resonant structures excited by piezoelectric ZnO thin film |